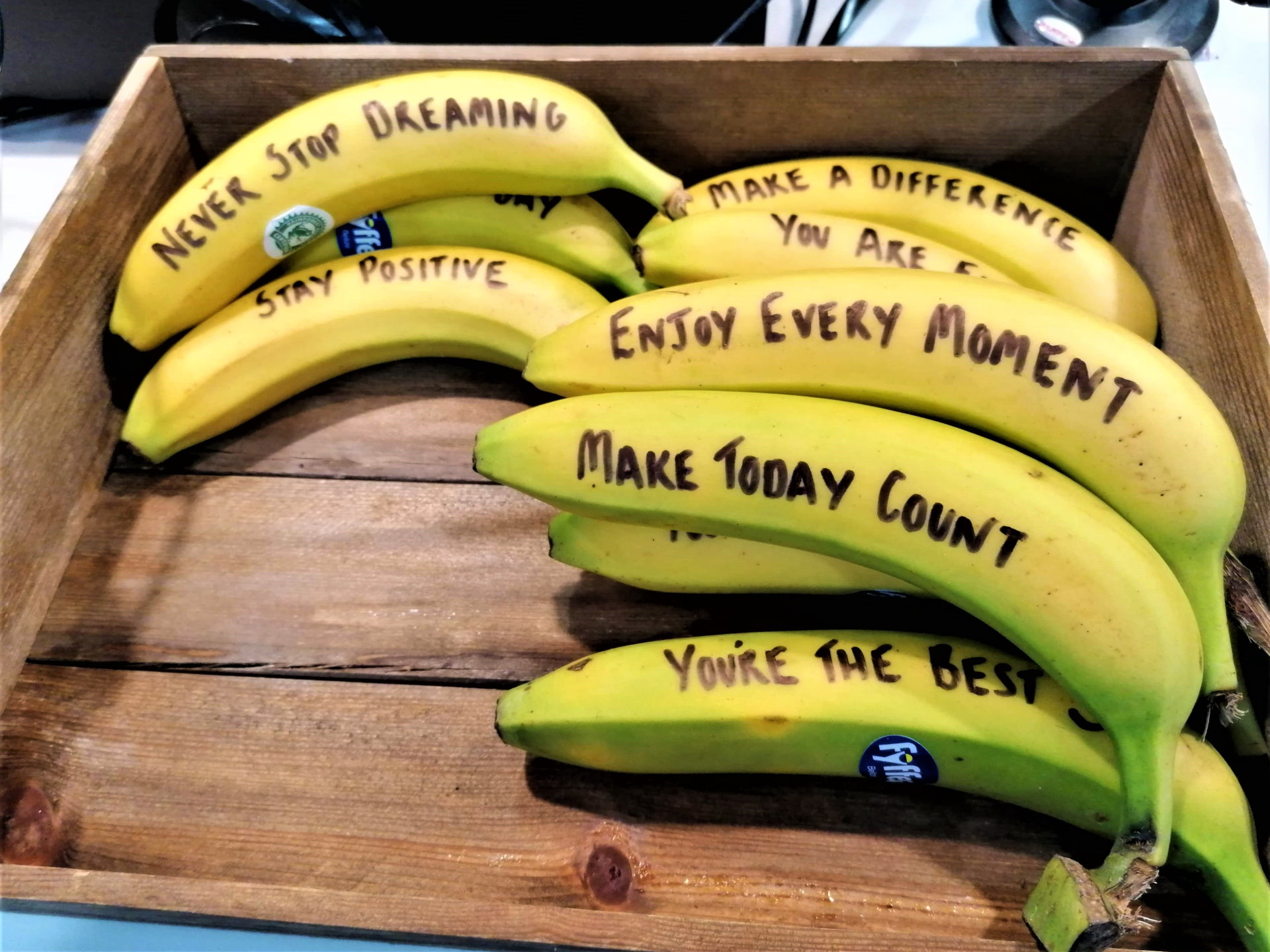 You may very well think that the welcome photo on this note is one taken from a photo library – yet it is not.
It is only what my daughter, who studies in Glasgow, came across, on the floor reception desk of the University Library. Fresh bananas, in a crate which was replenished all the time till afternoon as she observed later, with a handwritten quote of the day on them! For free, for all the students that were walking into the library that morning to study. Like they do every day, for several hours.
Because the University is very demanding. You must attend, study and be on track, otherwise you do not qualify for the finals at the end of the semester. And if that happens, you are offered a resit and if you are unsuccessful again, in most cases you go home – end of story. BUT, all lecture material or notes you need are uploaded on the University's intranet, a teacher does not drop a lecture or a lab just because he was not up to for his own reasons, the students can by no means squat the building because they decided to protest and it doesn't matter if you are not involved in politics! Ah and all the admin can go through on the platform, however, if you prefer to deal in person, there is a place to do so with "real" operating hours!
At the same time, the library is open everyday till midnight and during the term exams stays open 24/7 and is full of kids that study! They can also borrow curriculum books that otherwise are very expensive to buy and complete their reading for free. And on a gloomy morning like yesterday, someone was thinking of making their day bit better by a sweet simple gesture like the "quoted bananas". Yes, it made my daughter smile and probably so did many of the other kids that had one of the fruits. One way or another, they are motivated to succeed by a city and a system that embraces them and tries to make their lives easier. From offering them student discounts in shops and restaurants, to handing out goody bags containing all possible combinations of sim cards, reusable water bottles, special offer coupons and concert invitations. Student accommodations – either in halls or in flats – can be arranged via platforms with clearly listed terms and pricing. Supermarket shopping in Glasgow is somewhat 30% cheaper than poor-in-10yr-crisis Athens. And the list can get longer…
And what's the drawback then? That I miss my daughter. And most likely I will continue missing her, because she finished her first degree and started a second one on a completely different subject (applied for it and was accepted – no one asked her to go through Panellinies again) and I am afraid that she will be offered a permanent job fairly quickly – her home town can't compete unfortunately. You may claim that education in Scotland (broadly in UK) is a business. I am in total agreement. It is a business that they know how to sell, and they are being successful doing so. Even with some "quoted bananas"!
https://lilyscraftedfeelings.com/wp-content/uploads/2020/02/quoted-bananas_2-.jpg
800
800
Lilyscrafted@96
https://lilyscraftedfeelings.com/wp-content/uploads/2019/12/LILYS-logo-website-new-no-plaisio-transparent.png
Lilyscrafted@96
2020-02-07 11:07:10
2020-03-22 23:00:17
Quoted bananas